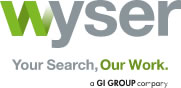 Wyser provides recruitment and selection services, as well as executive search services for managerial and expert positions.
The value proposition of Wyser is based on five strategic keystones:
A consulting approach to recruitment (customer analysis, recruitment need analysis, tailored design and implementation),
Specialization by job families,
A structured, technology-enabled and innovative methodology addressed to increase both effectiveness and efficiency,
A candidate management strategy oriented to build a long-lasting partnership with the key candidates,
An international reputation: presence in 3 continents (Europe, America and Asia) up to now.
We are part of the Gi Group, one of the major players on the international scene in the field of services specially dedicated to labour market development.
For more information please visit: https://en-rs.wyser-search.com/